NEW!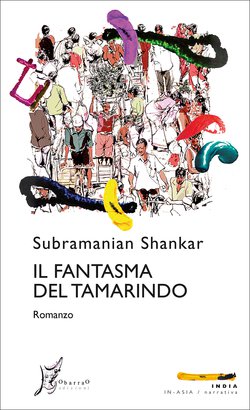 Italian translation of
Ghost in the Tamarind
is out!
Also out from ISLE!
Short story Chennai Block South: Intrusion of Untouchables
The story is speculative postcolonial climate-fiction, very much about the current pandemic, though I wrote most of it before the pandemic began.
Follow this link to read it.
---
I am a scholar-novelist. I write in different genres because the word is supple and powerful, sometimes more powerful than the sword.
I write fiction that is deeply researched, while my scholarship is driven by my practice as a novelist.
I teach at the University of Hawai'i at Mānoa in the English Department.
Here you will find links to books, short stories, scholarly articles, videos of presentations and interviews, other materials.
Click on the Follow button below if you would like to receive notifications of new posts to my blog.
---
EVENTS & NEWS
Author in Focus interview in Cerebration.
---
Interview about Italian edition of Ghost in the Tamarind (Il Fantasma del Tamarindo).
---
My review of Judith Butler's book The Force of Nonviolence is now out in Critical Inquiry.
---
"The Ruse of Freedom: Ahimsa and Freedom of Expression in a Comparative Context," my most important recent scholarly project, is now forthcoming from Cultural Critique! The essay is a comparative exploration of the uses of approaching controversies over free speech in India and the US through the lens of ahimsa.
"S. Shankar captures well the rigidity of caste hierarchy in the countryside. . . . [T]his novel of forbidden love is well-crafted. It is also timeless."
The Hindu
"[I]n its representations of cross-caste romance, its evocation of rural India from the twenties to the seventies, and its treatment of an important if lesser-known social movement, Shankar's ambitious novel draws us into a rich and interesting world, and leads us through his characters' intense emotional journey."
South Asian Review
---
BLOG
An Intellectual History of Global Inequality is a terrific project based at Aarhus University in Denmark. Earlier this summer I was interviewed by them about my work as a novelist and a critic as it pertains to global inequality. I think because of my recent fiction and scholarship on caste and postcolonialism, and because of […]
"We must rapidly begin the shift from a thing-oriented society to a person-oriented society. When machines and computers, profit motives and property rights are considered more important than people, the giant triplets of racism, extreme materialism and militarism are incapable of being conquered." –Martin Luther King In a speech at Riverside Church in April 1967, […]
Nothing says law-and-order like thug. Once again, the word is being bandied about in all the media. The thugs are out looting and rioting in the inner cities of America, we are told. Every time protests against police brutality ignite across the United States out comes the word from some all-too-convenient grab box of insults. […]
---
RECENT SCHOLARSHIP
Guest edited Provocations forum on "The Vernacular" for South Asian Review is now out! Includes brief but terrific pieces by Bishnupriya Ghosh, Charu Gupta, Francesca Orsini and Nirmal Selvamony, with an introduction by me.
---
---
VIDEO: On GHOST IN THE TAMARIND
---
More Praise for GHOST IN THE TAMARIND
Available for purchase here !
"S. Shankar's Ghost in the Tamarind is an impressive achievement–a conscientiously woven narrative that concurrently takes into account two inviolable principles and attempts to find a balance in between: the truth as well as the invasive and often violent finitude of perspective. If the answers to history's problems always arrive too late, a phrase I borrow from the novel, how should the history of the present be narrated in the agonizing interregnum between an unbearable present and an inconceivable salvific future? Relying on history not just as back drop but as its very backbone, Shankar's novel creates a credible world whose realism is critically mimetic of its own conditions of possibility." (R. Radhakrishnan, Chancellor's Professor, University of California at Irvine)
"Ghost in the Tamarind is a novel that must be read not just for its historical
sweep but also for the power of storytelling." (Nalini Iyer in the International Examiner)
"The narrative is rich with memorable characters and moments, along with a beautiful, sensual flow of language." (Foreword Reviews)
"Subversions, transgressions, and transcending boundaries are at the center of Ghost in the Tamarind, and Ramu, a Brahmin with a revolutionary heart, is a fitting protagonist. One of the novel's many pleasures is its seamless weaving of historical contexts, all the more impressive for its range, from the nineteenth century to the 1970s." (Samrat Upadhyay)
"S. Shankar has created an ambitious and moving novel that traverses several crucial eras in India's history. He has masterfully woven into it the lives of Ramu and Ponni, the heroic yet very human lovers who struggle against the bonds of colonialism as well as the prejudices within their own communities that threaten to destroy them." (Chitra Divakaruni)
---
CASTE AND LIFE NARRATIVES
a special issue of the journal Biography
(and now published as a book in India by Primus)
co-edited with Dr. Charu Gupta of the University of Delhi
Click on image to go to the Project Muse site!